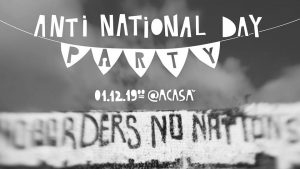 Saturday night we celebrate. We didn't want to but, the police said that if we protest the national day we are neither humans, nor citizens nor romanians. So let's celebrate the romanian state.
The state that evicts, imprisons, beats and tear-gasses its romanian human citizens.
The state that kills thousands of animals because they are not humans citizens romanians.
The state that refuses to finance schools hospitals social housing but finances referendums and cathedrals for the orthodox church because they are the real romanians citizens humans.
The state that keeps prisons overpopulated with inmates because they are not citizens humans romanians.
The state that would rather lie to us about our histories and stuff us with nationalism and founding myths than eradicate the poverty in which millions of romanians citizens humans live.
The state governed by peace and security but where if you are a woman, a gay or a lesbian, a sex worker, a Roma person, an anarchist etc you need to live in a constant state of fear of other romanians humans citizens.
The state in which we are free to do what we want unless we disrupt the state and don't consider ourselves non-romanians-citizens-humans.
The state that turns a blind eye to neo-fascist gangs and aggressors but does not tolerate critical voices and labels them as non-romanian-citizen-human.
Well then let us celebrate a hundred years of non-ironic happiness, a hundred years of unity in our ancestors' values – among which there is no compassion, equity, social justice or any of that leftist crap.
Saturday night, at A.casa we celebrate together with a party with beer and other beverages, with some vegan food, few hours of anti-nationalist music, with joy and deep feelings in our soul. That black non-romanian-citizen-human soul of ours.